Message from the President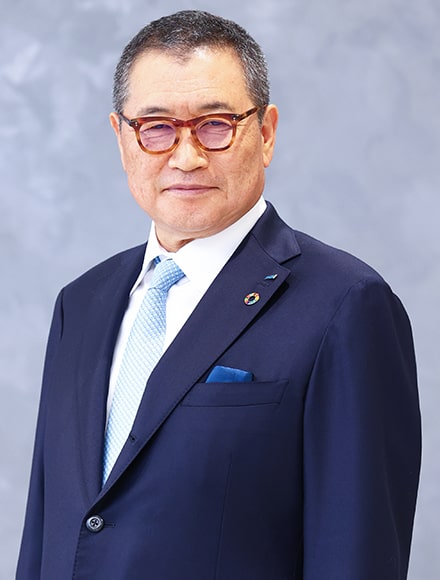 We are pleased to announce the overview of the Daicel Group's performance in the fiscal year ended March 31, 2017 as follows.
Sales revenue for the consolidated fiscal year under review totaled \440.061 billion (down 2.2% year-on-year), due to the impact of foreign exchange rates and other factors. On the income front, operating income amounted to \64.306 billion (down 0.1% year-on-year), ordinary income was \66.215 billion (up 1.2% year-on-year) and profit attributable to owners of the parent rose to \43.198 billion (up 7.2% year-on-year).
Against this background, during the fiscal year ended March 31, 2017, despite the fact that a deceleration in the Chinese economy was seen for a period, the global economy as a whole remained on a mild recovery track. The Japanese economy continued to recover at a slow pace with some weaknesses seen. However, the situation was unpredictable due primarily to changes in the foreign exchange environment and increasing uncertainty in international affairs.
Amid such circumstances, the Daicel Group has been making continuous efforts to strengthen its corporate foundation, mainly through construction of an optimal production system that meets product demand and offers organizational reinforcement to expand business as well as continuous cost reduction.
With regard to the world's economy going forward, moderate recovery is expected to continue, supported by resilient consumer spending against the backdrop of an improved employment environment in developed countries. Meanwhile, an uncertain business environment is likely to continue, given that anti-globalization movements triggered by economic disparity and immigration issues, as well as geopolitical risks, may exert a material impact on the economic outlook.
Under such circumstances, the Daicel Group has formulated a new medium-term business plan "3D-III" for fiscal 2017-2019 (years ending March 2018-2020) focused on attaining the Company's long-term vision "Grand Vision 2020", regarding operational safety, product safety and quality assurance as the unchanging essential issues, which are fundamental for a manufacturer.
With this mid-term plan, we will further develop our efforts to become "the company that delivers the best solutions", as promoted in the former mid-term plans "3D-I" and "3D-II", and accelerate the creation and growth of business units (BU) that will become the driving force for continuous growth, through M&A, etc. We aim to foster new BUs into business pillars for our next growth, utilizing open innovation which accepts ideas from outside our Group, such as from customers and higher educational organizations.
We are ready to launch full-scale efforts to address these issues and would like to ask our shareholders for even greater support and encouragement.
June 2017
President and CEO