Message from the President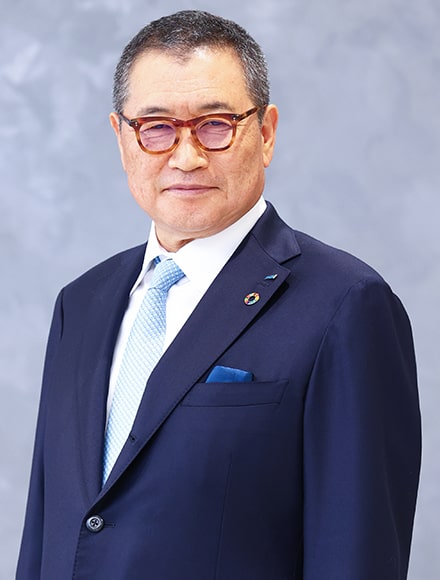 We are pleased to announce the overview of the Daicel Group's performance in the fiscal year ended March 31, 2016 as follows.
Looking at the global economic conditions during the consolidated fiscal year ended March 31, 2016, while the US economy stayed on a recovery trend and moderate economic recovery continued in Europe, a deceleration was seen in the Chinese economy. Meanwhile, the Japanese economy continued to recover at a slow pace as exemplified by improved corporate earnings, though some weaknesses were seen.Amid such circumstances, the Daicel Group has continuously been working hard on strengthening its corporate foundations through the construction of an optimal production system to meet product demand, continuous cost reduction and other efforts.
As a result, sales revenue for the consolidated fiscal year under review totaled ¥449.878 billion (up 1.4% year-on-year), thanks to favorable foreign exchange rates and other factors. On the income front, operating income amounted to ¥64.349 billion (up 25.4% year-on-year), ordinary income was ¥65.404 billion (up 18.8% year-on-year) and profit attributable to owners of the parent rose to ¥40.313 billion (up 29.0% year-on-year).
With regard to the world economy going forward, while the Japanese, US and European economies are expected to recover moderately, the situation still does not warrant optimism, given concerns such as the economic deceleration in China and other emerging countries.
Under these circumstances, parallel to maintaining safe operations, product safety and quality assurance—the basics for a manufacturer—as our time-honored top priorities, the Daicel Group is carrying out its 3-year "3D-II" mid-term plan for the period from FY2014 to 2016, toward realization of our long-term "Grand Vision 2020."
This mid-term plan aims to firmly put into practice a framework for becoming a company that materializes the best solutions laid out in our 3-year "3D-I" mid-term plan (FY2011–2013), and seek our"leap/evolution to new values." While directly taking over the context of the basic strategy that we have been working on since the "3D-I," we will further develop "Creation of new business," "Further strengthening of the core businesses," "Expansion and strengthening of global business operation,""Enhancement of cost competitiveness," "Strengthening of collaboration with business partners,""Utilization of strategic M&A" and "Reinforcement of infrastructure." Specifically, in order to expeditiously create new business, we are steadily searching for new products, developing industrialization processes and considering M&As as a means for acquiring new platforms, under a new structure designed to strengthen technology/product search and commercialization functions.In FY2016, the final year of the "3D-II," we will continue to work on these tasks and also formulate the next step, our new mid-term plan "3D-III."
We are ready to launch full-scale efforts to address these issues and would like to ask our shareholders for even greater support and encouragement.
June 2016
President and CEO