About DAICEL
The Fourth Long-Term Vision
Since we were founded through the merger of eight Japanese celluloid companies in 1919, we have generated a variety of products with friction and fusion of different cultures (diversity).
The two pillars of "Enriching people's lives" and "Prosperous co-existence with other companies," were established with this original merger, and not only was the excessive competition in the celluloid industry eliminated, but the integration and growth of the processing industry advanced greatly. Eventually improvement in the added-value of the entire supply chain was achieved.
DAICEL Production Innovation is also based on the same concept, making it easier to unify/share information, not only solving technological issues which the Company must overcome, it aims to construct a value chain with customers and suppliers.
Currently the world has been undergoing further major changes, accelerated by theAI and digital revolutions.
In the Basic Principle and Sustainable Management Policy we advocate: "Placing the highest priority on safety/quality/compliance which constitute the foundation of Company's existence. We will work to achieve people-friendly manufacturing," which we regard as unchangeable even during times of rapid change.
Also, we have made it clear "what we must boldly change" in the Long-Term Vision and Mid-Term Management Strategy and have conveyed this message to Group employees and stakeholders who share the same principles working in manufacturing.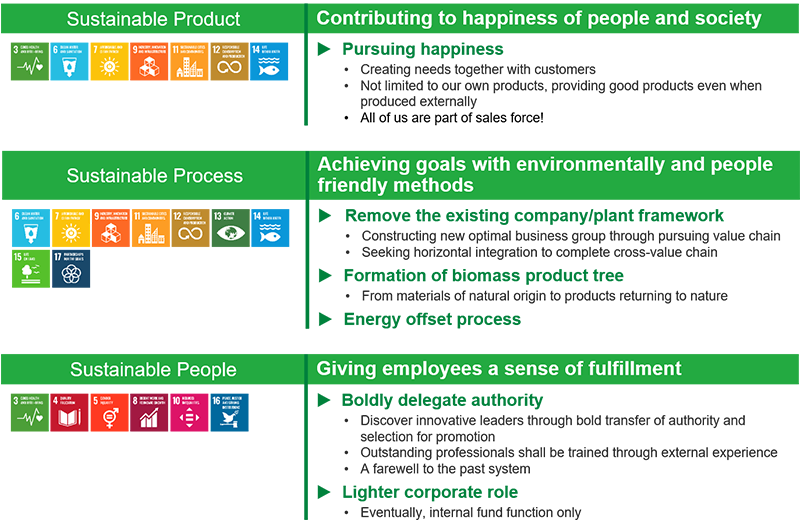 Four Domains and Market Focus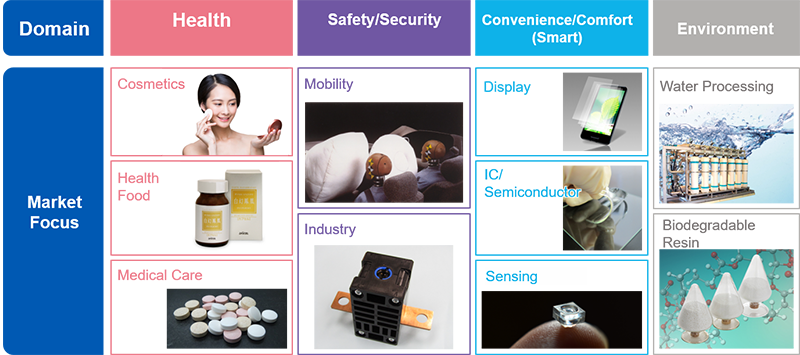 Curve of Growth and Acceleration