Sustainability
Materiality
The Daicel Group identified its materiality in FY2021/3 as key sustainability issues toward achieving the Accelerate 2025 Mid-Term Management Strategy. We will carry out the CAPD cycle according to this materiality and contribute to realizing a sustainable society in a uniquely Daicel way.
Background and Approach to Identifying Our Materiality
The Daicel Group's materiality consists of two main categories.
For "materiality aimed at achieving growth of the Daicel Group and value co-creation," our aim is to leverage the strengths of the Group to address the SDGs and other social issues and actively create value in line with the "Product, Process, and People" concept in our Sustainable Management Policy.
For "materiality related to the foundation for the Daicel Group's continuity and governance," we established respective considerations of prime importance for value creation, including safety, quality, and compliance, for E (environment), S (society), and G (governance).
Process of Identifying Materiality

STEP

1
Extract social issues
We referenced international guidelines, SDGs, the principles of the United Nations Global Compact and guidelines published by industry organizations to extract social issues that the Daicel Group should address.
STEP

2
Prioritize
We assessed items extracted in Step 1 by giving consideration to the following aspects to identify key themes with high priority by plotting them on the materiality map according to "Importance to stakeholders" and "Importance to the Daicel Group." We then sorted them into the two categories of "Growth of the Daicel Group and value co-creation" and "Foundation for the Daicel Group's continuity and governance."
Consistency between the Long-Term Vision and Mid-Term Management Strategy
Consistency with related policies such as the Sustainable Management Policy, the Daicel Group Conduct Policy, and the Daicel Code of Conduct
Consolidation of opinions from relevant departments
Materiality Map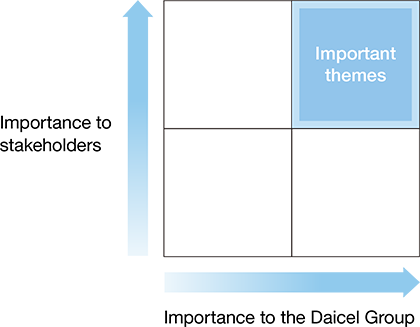 STEP

3
Confirm validity
The Corporate Sustainability and other relevant divisions discussed the validity of important themes identified through Steps 1 and 2. The results were reported and approved at the Management Meetings and subsequently endorsed by the Board of Directors.
STEP

4
Formulate materiality and KPIs
By going through Steps 1 to 3, we identified 15 material issues. We designate a KPI for each as needed, and also periodically evaluate progress to maintain a CAPD cycle. We will review our materiality in response to future changes in society and our business.
Materiality and Key Achievements
Scroll left or right
Materiality aimed at achieving growth of the Daicel Group and value co-creation
Classifications
Materiality
Main Initiatives in FY2022/3
Relevant SDGs
Sustainable Product
Contribute to

beauty

and

health

Through industry-academia collaboration, accelerated the development of naturally derived products, aiming to enhance peoples' well-being
Succeed in the world's first industrial production of Urolithin A
Established the Life Sciences Business Division to strengthen our medical products business using proprietary technologies
Provided a new drug delivery device for COVID-19 vaccine development

Contribute to the Smart Society

Accelerated the development of high-performance materials for semiconductors and other electronics applications, and was chosen for leading research under the "Post 5G Information and Telecommunication Systems Infrastructure Enhancement Research and Development Project" of NEDO
Established the Advanced Materials & Packaging Institute and moved from the basic research phase to the development phase

Provide safety and security for society

Launched brands of new energy systems One Time Energy™ and DAISI™ and stepped up the development of products to accommodate the shift towards automation and electrification
Improved gas generant combustibility and developed a new gas generant manufacturing process

Provide environmentally friendly materials and technology

Carried out a project for a new cellulose acetate business and advanced the environmentally-friendly materials business
Obtained "OK biodegradable MARINE" certification for CAFBLO™, a highly biodegradable cellulose acetate
Obtained certification for COC as a recyclable high density polyethylene (Polyplastics USA)

Sustainable Process

Contribute to the development of a circular society

Established the Biomass Innovation Center and strengthened our high-performance materials research and development capabilities using biomass
Carried out joint research with Kyoto University and Kanazawa University
In October 2022, will open a facility at Kanazawa University to research biomass utilization and technologies toward carbon neutral

Respond to climate change

Scope 1 and 2 GHG emission reduction rates (compared to FY2019/3)
FY2022/3 results: 1%
Targets: FY2026/3 37% FY2031/3: 50% FY2051/3: Achieve carbon neutrality (Scope 1, 2, 3)
The increase in GHG emissions caused by higher production volume prompted by a recovery of demand was offset by energy-saving efforts that included increasing our usage of steam and electricity, putting emissions on par with FY2019/3

Sustainable People

Promote diversity and inclusion

Ratio of women in management position*1
FY2022/3 results: 4.3% Target: FY2026/3 10% or above
Ratio of persons with disabilities that have been with the company at least three years*1 (1 - persons with disabilities that left the company in less than three years after joining / total number of employed persons with disabilities) × 100
FY2022/3 results: 97.2% Target: Keep at 95% or above
Held training and other internal events with the theme of "Design Your Own Career" as part of the "Wellbee" diversity promotion project
Published an action plan for the second phase (FY2022/3 to FY2026/3) of Japan's Act on Promotion of Women's Participation and Advancement in the Workplace

Support personal growth

Revised the human resources systems for managers in April 2021 and for non-managers in April 2022; employees now can choose their career more independently.
Implemented the Career Challenge System to enable employees to challenge themselves in new ways toward achieving a career plan of their own devising
Held age-specific career training aimed at helping employees in their early 50s lead fulfilling personal and professional lives by enabling them to plan their own future careers
Scroll left or right
Materiality related to the foundation for the Daicel Group's continuity and governance
Classifications
Materiality
Main Initiatives in FY2022/3
Relevant SDGs
Environment

Reduce environmental impact

Industrial waste recycling rate*2
FY2022/3 results: 97.7% Target: FY2026/3 99% or above

Social

Ensure process safety and disaster prevention,




occupational health and safety

Serious occupational accidents*1
FY2022/3 results: 0 Target: Keep at 0
Serious process safety incidents*1
FY2022/3 results: 0 Target: Keep at 0
Held safety training based on past incidents (occupational accidents and process safety incidents)*1
FY2022/3 results: 100% Target: Keep at 100%

Ensure chemical safety

and

Enhance product quality

RC-related regulation audit rate*1
FY2022/3 results (1st year of 5-year plan): 21%
Target: FY2026/3 100%
Rate of initial response to customer complaints within 24 hours*1
FY2022/3 results: 63% Target: FY2026/3 100%
Conducted General Operability Studies*4 for quality and usage rates, used online sensors and soft sensors for quality checking, and worked toward completing the integrated quality management system

Respect human rights

Implementation rate of human rights due diligence for Daicel Group companies for FY2020/3 to FY2022/3: 64.9% Group companies in Japan: conducted in 16/18 companies*3
Group companies overseas: conducted in 21/39 companies*3
Proposed plan for conducting human rights due diligence for suppliers

Foster a corporate culture that meets employee needs

Annual continuous paid leave acquisition rate*1 (a five-day holiday taken once per year)
FY2022/3 results: Held a "Thanks Holiday" (employees take a five-day holiday) pilot for certain organizations
Target: FY2026/3 100%
Increased number of holidays for shift workers as an initiative to shorten working hours
Established the Employee Wellness Promotion Center to improve health management throughout the Group

Promote sustainable procurement

Sustainable procurement rate (the percentage of suppliers meeting Daicel's standards, based on the results of SAQs conducted for major Daicel Group suppliers)
FY2022/3 results: 72% Target: FY2024/3 100%
Held interviews with major suppliers on SAQ results, identified issues, and provided support for making improvements

Governance

Strengthen foundation for Group governance

and

Compliance

To enhance effective management oversight functions, a third-party organization held discussions on conducting effective evaluations at the Board of Directors meeting; evaluations to be done in FY2023/3
Rate at which legal checks are made and response measures taken for material matters requiring executive decision
FY2022/3 results: 100% Target: Keep at 100%
Issues reported to the Help Line FY2022/3 results: 50
Percentage of employees who know how to use the Help Line system and can contact the Help Line when they discover compliance violations*2 (= percentage of employees who have taken Help Line reporting training)
FY2022/3 results: 8.5% Target: FY2026/3 100%
*1

Daicel

*2

Daicel and Group companies in Japan

*3

Figures represent the number of candidate companies for human rights due diligence (as of March 2022)

*4

Daicel's original method of standardizing plant operations.