Sustainability
Sustainability Management
The Daicel Group's business activities are guided on a day-to-day basis by its basic philosophy of making people's lives better by co-creating value. Today, as public values are changing significantly in terms of realizing a sustainable society, the Group has sought to articulate its basic management approach by laying out the Sustainable Management Policy. Under this policy, we will prioritize safety, quality, and compliance as the most important foundation and seek to achieve a sustainable society and the Group's business expansion with integrity, tireless efforts, and self-transformation.
Sustainable Management Policy
Sustainable Management Policy
We create and provide people with new values to achieve better quality of life.
We construct a circular process with all our stakeholders to make harmonious coexistence with the environment.
We promote "human-centered management" that enables diverse employees to grow while establishing their own presence and achieving fulfillment.
Enacted July 5, 2020
Conceptual Diagram of Sustainable Management Policy
Sustainable Management System
In FY2021/3 the Daicel Group established the Sustainable Management Committee, chaired by the president and mainly comprising the heads of CSR-related divisions as members to engage in management-level discussions on the important agenda of promoting a circular society and Daicel's response to climate change. We also seek to raise the level of our CSR actions on issues including human rights, work environment, corporate ethics, sustainable procurement, and information disclosure through the activities of subcommittees on specific issues. Daicel will continue to address issues related to sustainability group-wide.
To further promote our contribution to developing a circular society, which is our mission under the Accelerate 2025-II Mid-Term Management Strategy revised in February 2021, in addition to existing members, including directors responsible for CSR-related divisions, all senior managing executive officers, directors responsible for business, R&D and production divisions, and directors of major Group companies began participating as advisors from FY2022/3 to accelerate our contribution to achieving sustainability through our businesses and innovation.
In June 2021, the Daicel Group identified its key sustainability issues, or materiality, to bolster its efforts for the Mid-Term Management Strategy and the CSR foundation. The Sustainable Management Committee will designate a KPI for each item and periodically evaluate progress to maintain a CAPD cycle.
In addition, the Board of Directors will receive regular reports from the Sustainable Management Committee concerning the status of the KPI related to materiality in order to supervise the promotion of sustainability at Daicel.
Diagram of the Sustainable Management System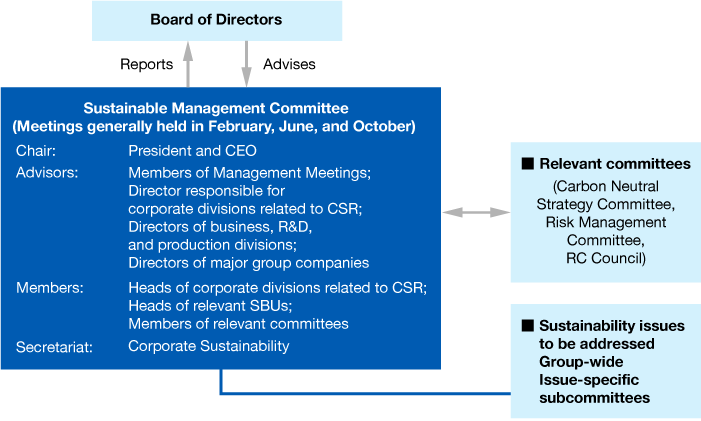 Joining the United Nations Global Compact
In order to promote responsible corporate management, the Daicel Group established and has been abiding by the Daicel Groups Conduct Policy, the Daicel Code of Conduct, and the Basic Policies on Responsible Care for some time. Daicel Corporation signed the United Nations Global Compact in April 2020 to support its intention to resolve global issues as a responsible corporate citizen.
The Global Compact upholds the Ten Principles in the areas of human rights, labor, the environment, and anti-corruption. In 2021, the Daicel Group formulated a new personnel policy based on those principles. It has been verifying the compatibility of existing documents, such as the Conduct Policy, the Code of Conduct, and the Basic Policies on Responsible Care, with the principles of the United Nations Global Compact. To encourage a greater understanding of the principles throughout the Company, relevant divisions of Daicel have joined the subcommittees organized by the Global Compact Network Japan from FY2022/3 to collect and share information.
Initiatives for Achieving the SDGs Toward Realizing a Sustainable Society
The Sustainable Development Goals (SDGs) were adopted at the UN Sustainable Development Summit in 2015 as international goals aimed at creating a sustainable world that is better than today by 2030. Based on the pledge that no one will be left behind, the SDGs consist of 169 targets and 17 goals in areas including climate change, poverty, and gender equality, and enterprises are required to pursue initiatives to achieve the goals.
The Daicel Group believes its corporate mission is to recognize social issues and contribute to realizing a society characterized by sustainable products and business processes and to achieving the SDGs while creating new value for society.
Beginning in FY2021/3, we instituted programs to make these concepts an integral part of the Company, such as Ambassador activities and position-based training, and to make them part of every employee's mindset. We intend to expand these programs in FY2022/3 in order to deepen employees' understanding.
Furthermore, in order to take specific steps toward contributing to the construction of a circular society, as laid out in our Mid-Term Management Strategy, we formulated the important issue of materiality and are proceeding with setting the relevant key performance indicators (KPI). Setting these KPI will make each division's contribution to the SDGs and sustainability visible. We also intend to create a certification system for evaluating how well our products contribute to sustainability.
Identifying Key Sustainability Issues (Materiality)
Initiatives Aimed at Spreading an Understanding of the SDGs
We believe that it is of utmost importance that each and every employee understands the SDGs, connects them to his or her own work, and acts with this in mind in order to contribute to their achievement. To this end, we are implementing various initiatives led by the Corporate Sustainability to promote awareness of the SDGs.
SDGs Ambassador Activities
The SDGs Ambassadors initiative was established by the Daicel Group in FY2021/3 as a community of self-motivated volunteers that cross the boundaries of worksites, job types and positions in order to promote awareness throughout the Group. In this, the third year of the program, a total of 125 employees (74 in FY2021/3, 108 in FY2022/3), including those at Group companies and assigned overseas, participated in monthly online Ambassadors' Networking Event (nine times in FY2022/3) to engage in a mutual exchange across worksites. Basic lectures and team activities helped participants learn about the SDGs and deepen and broaden their understanding. The 13 SDG ambassadors, who are passionate about the SDGs among them, have set the penetration of the SDGs as a business goal as key persons and are working on further internal penetration at their sites and departments. Furthermore, in February 2022, the Ambassadors held online meetings with SDG key persons at other companies and in other industries to exchange views, leading to the use of "SDG" as a key word.

Examples of Activities by SDGs Ambassadors
Ohtake Plant
Under a new plan initiated in FY 2023/3, the SDG Ambassadors and the labor union at the Ohtake Plant put together tag teams and held an event in which participants learned about the SDGs through GOMI-SUPO*, quizzes, and coffee gatherings while learning how operations at their plant is linked to the SDGs. It is an enjoyable way to exchange ideas.
*Teams competed against each other in the type and amount of trash they picked up within a time limit. This competition combined eco-friendly activities with sports, and was held at a beach cleanup near the plant.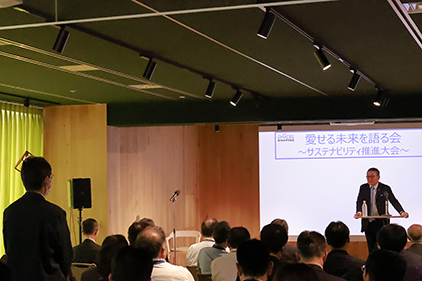 DM Novafoam Ltd.
The SDGs were the key concept at the One Novafoam Initiative, which DM Novafoam Ltd. initiated as a joint program at three plants (the Nagano Plant, the Okayama Plant, and the Aomori Plant). In addition, the Pink Mask Program, implemented at a local junior high school to introduce consideration of gender equality, has been extended to the Company as part of lively interactions with the local community.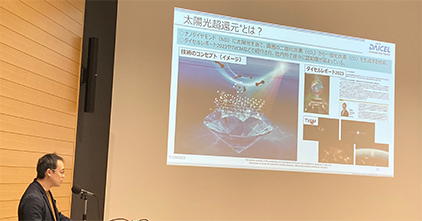 Team Activities by Goal
Members who were interested in SDGs 17 gathered, divided themselves into teams for each goal, determined which themes to concentrate on, and carried out activities. Diverse members across affiliations and offices delved deeply into the goals through experiences and discussions that were accessible to them. They reported their results at an online Ambassadors' Networking Event in March 2022.

Internal Dissemination Activities
We continued our efforts from FY2021/3 in FY2022/3 by disseminating information on the SDGs and activities by SDGs Ambassadors through our Company newsletter Palette and the Arcus intranet. In addition, at the request of each division, members of the Corporate Sustainability translated key words from European languages into Japanese, and gave lectures at study sessions and Site RC conventions that conveyed the key words in an easy-to-understand manner. (results: FY2022/3: four study sessions and four lectures were attended by more than 1,300 employees).
Group-wide Online Event (Sustainable Week)
Continuing from the event held in FY2021/3, a Group-wide event called "Daicel Group Sustainable Week" was held with mainly online participation from November 8 to 12, 2021. A variety of events were offered under the catchphrase "Connect sustainability with your everyday life and find your own way to achieve it," which included a message from the president, a presentation called "My SDGs," dialogues and quizzes prepared by the diversity promotion project "Wellbee," and a live event by SDG personality Nana Takamatsu. About 1,100 employees from the entire Group participated in these events. The special website on our internet had been accessed more than 5,000 times.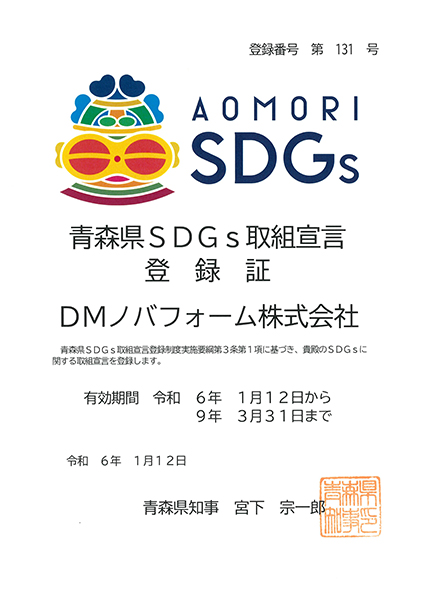 Position-based Training
In FY2022/3, we conducted rank-based training for every employee who has been promoted, in addition to trainings for new recruits and newly appointed managers. Joining with CSR-related divisions, such as Corporate Compliance and Responsible Care, we held sessions centered on the concept of sustainability. In consideration of the ongoing COVID-19 pandemic, we held the sessions in hybrid form, partly face-to-face and partly online, implementing practical training programs that included group discussions (with about 300 participants). Additionally, we will strive to foster future leaders of sustainable management through a systematic training program for employees. The program will continue from the time they join the company to when they are assigned to a managerial post.
SDGs Survey
To assess the results of dissemination activities, we conducted our third SDGs Awareness Survey in February 2022. We sent a questionnaire to 5,839 employees, including those at Group companies in Japan (response rate: 77%) and found that over 80% of the respondents were aware of the SDGs (an increase over the figure of 60% from the previous year), which confirmed that the concepts of the SDGs are being disseminated. In FY2023/3, we will strive to increase employees' understanding of the SDGs and strive to implement them through our operations. We will also expand this program to our overseas business sites.
The Daicel Group aspires to be an honest company by forging highly reliable, collaborative relationships with all stakeholders involved in our business, including customers, suppliers, shareholders and investors, local communities and employees. We will strive to accurately understand stakeholder demands and expectations for the Daicel Group and reflect them in our business activities.
Scroll left or right
Stakeholder
Details
Main Methods of Communication
Customers
Corporate customers and general consumers to whom we provide our products and solutions

Dissemination of information via the corporate website and other media Contact points
Organization of exhibitions and participation in exhibitions

Shareholders and Investors
Shareholders,
individual and institutional investors

Annual General Meeting of Shareholders
Financial Results Announcement
Business briefings
One-on-one interviews
Participate in conferences for overseas investors
Individual visits to overseas investors
Small meetings
Facility tours
Dissemination and disclosure of information via the Daicel Report and corporate website
Contact points

Suppliers
Suppliers and subcontractors of raw materials, fuel, and parts, etc.

Daily business transactions
Responsible care promotion activities
Contact points
CSR Procurement Survey

Employees
All of the Daicel Group's employees

Various training seminars and educational training
Central Healthcare Committee and Workplace Healthcare Committees
Group newsletter and intranet
Signing of the Labor-Management Charter with the labor union
Compliance Help Line

Local Communities
Locations of the Daicel Group' s offices and plants

Voluntary activities
Friendship events with local residents
Participation in local events

Industry and Academia
Partner companies,
universities and research institutions with whom the Daicel Group conducts joint research and development

Joint research and development
Participation in projects