The Pyro-Switch is a combined device consisting of Pyro-Fuse and Pyro-Closer.
It enables safe, instantaneous shutdown and short-circuit simultaneously.
We provide broad applications of Pyro-Switch requirements that could be used not only for emergency, but also for various purposes based on your idea.
Daicel Safety Strategic Business Units' "One Time Energy" is fully applied to our Pyro-Switch that enables safe, instantaneous circuit-switching.
Application
Circuit Switching

The Pyro-Switch can switch circuits by instantenous shutdown and conection to other circuits simultaneously.
*This photo is for illustrative purposes.
Features / Specifications
The PSD7 unit itself could be used as a speedy circuit switch.
Please feel free to contact us if you wish for more information on a device to shut down or short-curcuit high electric currents.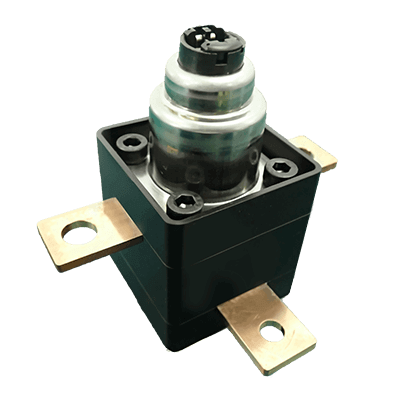 Specifications
Function (breaking) time
<2ms
Switching time
<200μs
Geometry
(D×W×L:mm)
43(85)×43(85)×77.2
Unit weight
400g
Product Data Sheet
(PDF)
PDF:400KB
Operating principle of the Pyro-Switch
1.An ignition current is generated from an external signal. "One Time Energy" activates to generate gas.

2.The piston pressurized by generated gas detaches the 1st busbar, shutting down the electric circuit.
The detached 1st busbar cut by the piston attaches the 2nd busbars to create a short-circuit.