A Wire cutter is utilized for satellite detachment, since it operates perfectly even in outer space without air.
Daicel Safety Strategic Business Unit(SBU)s' "One Time Energy" is fully reflected to our Wire cutter that enables instantaneous disconnection of wire, cable etc.
Operating principle of the Wire cutter
The Wire cutter can be applicable for instantaneously cutting/disconnecting various materials including fiber rope, super fiber and steel wire.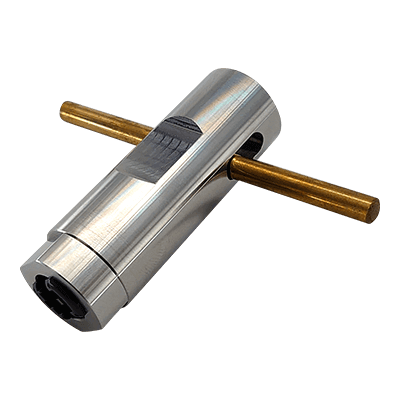 Specifications
Wire size (example)
A286, φ5.2mm
Function (breaking) time
<3ms
Geometry
(D×W×L:mm)
φ20×65
Unit weight
115g
Product Data Sheet
(PDF)
PDF:247KB
Operating principle of the Wire cutter
1.The gas generated by the "One Time Energy" pushes out a cutter.

2.The cutter extruded by gas pressure disconnects the wire harness.