About DAICEL
Basic Philosophy
We place great importance on the Basic Principle concept, and in future will continue to hold this concept without being influenced by changing times.
Co-creating value・・・Understanding and communicating together with various partners, to jointly create new value
Sustainable Management Policy
With safety, quality and compliance set as the most important foundation, the Daicel Group hereby establishes its Sustainable Management Policy to concurrently achieve a sustainable society and the Company's business expansion with integrity, tireless efforts and self-transformation.
We create and provide people with new values to achieve better quality of life.
We construct a circular process with all our stakeholders to make harmonious coexistence with the environment.
We promote "human-centered business management" that enables diverse employees to grow while establishing their own presence and achieving fulfillment.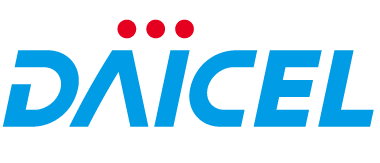 Our symbol, which uses Daicel blue, gives a sense of action and speed by the oblique character design used for the word DAICEL.
The three red circles represent below;
Our Unceasing Passion for Creation,
Our Strong Will to keep working on Innovation
Our Fighting Spirit to Continue taking on New Fields outside our company's current scope.