Engineering Plastics
We, the Daicel Group, offer a wide range of plastics from engineering plastics and plastic compound products of high-performance polymer to functional sheets, formed trays, and packaging films. We provide various industries with solutions through our products and technologies.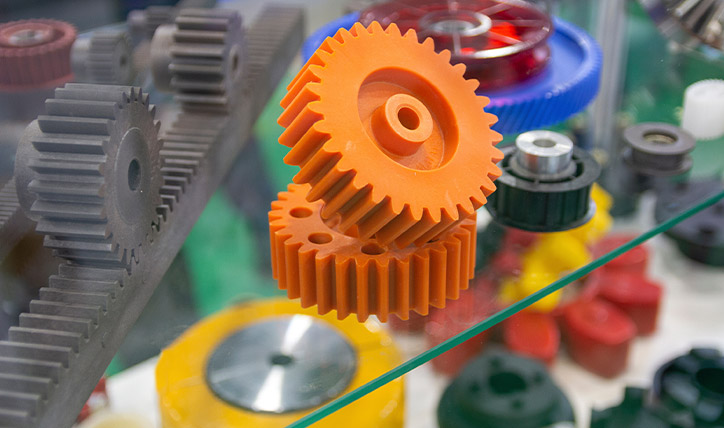 A Wide-ranging Product Line of Innovative Plastics
The Daicel Group offers a broad lineup of plastic products ranging from general-purpose plastics to high-performance plastics used as substitutes for metals, especially those known as engineering plastics and super engineering plastics. In addition to offering processing technologies and technical services, we provide plastics in resin form that meet specific customer needs.
Engineering Plastics and Super Engineering Plastics
"Engineering plastics" is a general term for a group of high-performance plastics that exhibit greater strength and heat resistance (generally 100°C and higher) than conventional general-purpose plastics. The general term "super engineering plastics" applies to a group of high-performance plastics exhibiting even greater strength and heat resistance (generally 150°C and higher) than conventional engineering plastics. They are used in a variety of products found in everyday life, including motor vehicles, household appliances, electronic devices, aircraft, and packaging used for foodstuffs and medical supplies. By replacing metal parts with engineering plastics, we are contributing to the reduction of weight and miniaturization of products while improving safety and reducing manufacturing costs.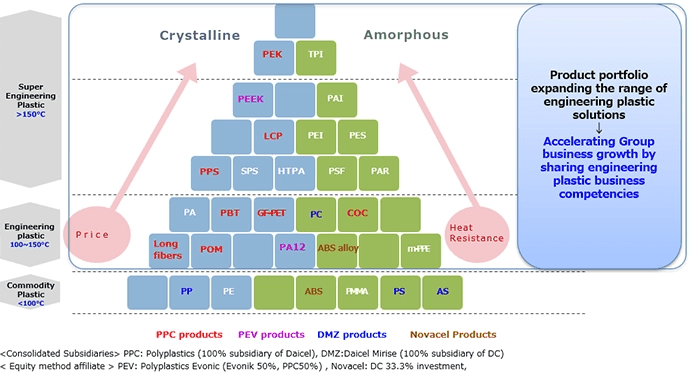 Crystalline and Non-crystalline Resins
Depending on their molecular structure, thermoplastics are categorized as either crystalline resins or non-crystalline resins. Crystalline resins comprise crystals in which molecular chains are arranged in an orderly manner, so they have excellent chemical resistance and high mechanical strength. Since non-crystalline resins exhibit no regularity in their molecular chains and contain no crystals, their shrinkage rate during molding is low and they are available in many transparent resins.
Various Processing Technologies
To accommodate various customer requests, we offer innovative molding processes that take advantage of the characteristics of each resin. We achieve this by combining equipment, operating conditions, and secondary processing technologies in an optimal combination. In addition to offering conventional extrusion molding and injection molding, we provide a variety of processing technologies such as powdering for use in 3D printers to meet varied customer requests.
Comprehensive Technical Support Services
In addition to offering resin design services, we provide comprehensive support that includes product design, mold design, prototyping and evaluation, and mass production. Our simulation-based CAE analysis boasts a track record of more than 30 years and nearly 300 requests per year.
Offering Wide-ranging Support for Everything from Resin Molding Processes to Analysis
We provide resin molding services supported by our engineers and our wide selection of molding devices. In addition to offering basic resin analysis, we provide comprehensive support for optimal design through a wide range of services that include ideal mold design, flow analysis, and failure analysis.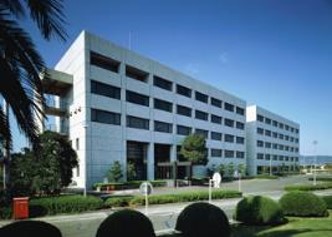 Resin-to-Resin and Resin-to-Metal Bonding Technology
To meet a variety of industry needs, we offer resin-to-resin bonding as well as resin-to-metal bonding technologies.
Resin-to-resin bonding

AKI-Lock®
A technology for bonding different resin materials without adhesives or post-processing
AKI-Lock® from Polyplastics Co., Ltd.
K&K
A chemical bonding technology for use with polyamide 12 resin, TPU, and rubber R-COMPO® from Polyplastics-Evonik Corporation

Resin-to-metal bonding

DLAMP™
A technology that uses lasers to apply special anchors to metal surfaces and to join metals with various dissimilar materials
DLAMP™ from Daicel Miraizu Ltd.
MENDEX®
A technology that uses polyamide resin as an adhesive layer to bond relatively large areas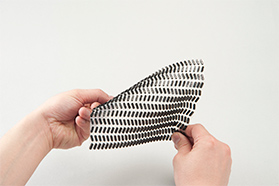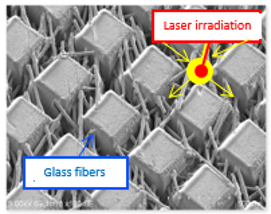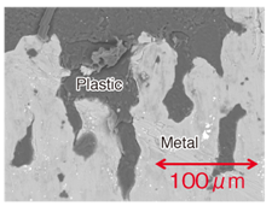 Daicel Miraizu Ltd.
Manufacture and sales of plastic compounds, barrier films for food, water-soluble polymers, water-based adhesives, materials for civil engineering and construction, celluloid, acetate plastics and other resins as well as household products

DM Novafoam Ltd.
Manufacture and sales of cushioning materials and other low-density plastic foam products

Daicel Pack Systems Ltd.
Manufacture and sales of various molded containers